Happy Birthday (In Advance) Sophia!
We were supposed to celebrate it on the actual day which is on 7 Oct but somebody has to take her PSLE that day. Urgh.

I hope the picture qualities are better here. I've got a lot a lot of them. Hehehe.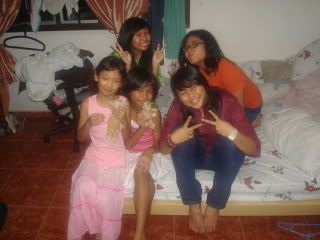 Got somemore! Next time kkkkkk :)

****

Chelsea 2 Liverpool 0
I don't know why I even bother supporting Chelsea still. Don't ask me why I even started supporting it eh please. No other goood team lah urgh. Don't mind Man Utd but the fans are just so friggin annoying. Annoying I tell you! Like Nazirah. Hahahah!

Andddddd I still want a Chunkey Monkey Ben & Jerry Ice Cream :-DDDDDDDDDDDDDDDD
Pssst, someone's turning 15 soon. Finally!

I bloody can't do my EOY because of N lvls urgh. I could've finish it before the 16th yknowwwww! Irritating, you people better pass ah. And good luck (: Andand to PSLE candidates also. Think of me Yani, confirm pass. Hahahah!

Oh aah. Happy 16th Birthday Rio Haikal.